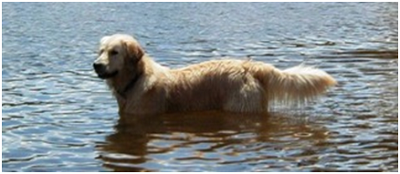 We told Wilson, from the day he came to us as a chubby golden puppy, that we would not stand in his way, when it was his time to leave. We promised to help him. And so he gave us the best that any dog could give, for 9 years. Nine years seemed so short, too short… a total rip-off! But wait, would 13 years have made it better? Would an extra few years have made any difference to the stunning quality of friendship, devotion, love and joy he brought into our lives? I don't think so. But we want more! We never want it to end. How much can we claim from one beautiful, furry being?
When the vet told us that our Golden Boy had cancer, I caved at the knees. When we saw how quickly the disease took him down, we knew it was imperative we stand by our promise. So, we called on the services of a most remarkable vet. She would come to our home and help release him, there. We told him, "Your very own angel is coming to help you now, buddy." He seemed to understand.
There was one stellar moment, before she arrived. I sat on the floor with Wilson, clinging to every moment I had left with him. With an unusual show of strength and clarity, he sat bolt upright and looked straight into my eyes. I could not look away, held by the fierce intensity of his gaze. He maintained that eye contact for an incredibly long time. There was no question that he was communicating. "Thank you", he said, "Do you hear me? Thank you."
He released his hold on this mortal life, with his head in my lap. I cried for a few months and then I wrote this song.
I said I'd walk you to the door
Said I wouldn't ask for anymore from you.
I cried a river when you let go'
Couldn't bear to lose your shining soul
And you let go so easily
Called your name in the night
Hoping for a little glimpse of light, from you
Thought that I could bring you back to me
Even though I said I'd set you free
I don't let go, so easily
You must have been a saint with your own kind
Brighter than the stars and the moon you shine
And for a time, you shone on me
Tried to walk it off, I did my best
Didn't walk far enough I guess, from you.
Turned my collar up against the breeze
Turned my attention to the falling leaves
See, even trees let go, easily
Life is like an ocean with its ebb and flow
and there's an art to letting go, I know
Time with you was time that I was blessed
It's hard to let go when you've had the best
But we won't rest, till we let it be.
I think I'm beginning to see
I shine for you, you shine for me
That's the way it's always gonna be, with you
I cried a river when you let go
I didn't understand I did not know
Your shining soul, will never leave
Your timeless soul, will always be
Your soul, your soul, shines on in me.
* We value and appreciate your comments. Please note that your comment will not appear immediately as it requires an administrative review (for spam control).