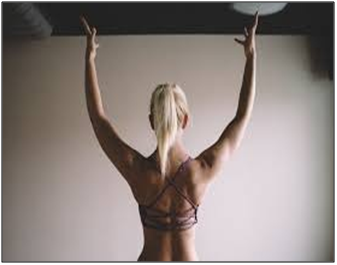 Yesterday I went to see my osteopath to take care of a little glitch in my back. She is marvellous! This morning, upon arriving at the hospice for my day's work, I was greeted by another volunteer who was having back issues. So, I quickly ushered her into my sanctuary and did a little energy work, before my first client appeared.
When that first client did show up, I asked "How're you doing today?"
"My back really hurts", she informed me.
Was I surprised? No! I quickly surmised, it was a back day. Because, by now I know that we are all connected and what I experience in mind and body is never exclusive to me. It's in the ether, as they say. It is experienced through the connecting substance. What I am discovering, though, is that when I work on a client's specific issue, I am also working on that issue in myself. And that work extends beyond the two of us… into the day and all the people squirming under sore backs. Ergo, a back day.
Extending a Blessing into the World
Once upon a time, I used to listen to people talk about "extending a blessing into the world". They would shut their eyes, focus from within and pass a blessing. I don't mind telling you, it seemed they were passing something else, if you catch my drift! But I'm getting it, slowly, day by day. As I hold my hands over the bones of another I can feel, in my whole body, just what is required of me in that moment. Because it is in me. What would I want? I go where I would want another to go with me and I know I'm hitting the spot. Put's a whole new spin on "do unto others", doesn't it?
To say we are all one is not just a cliche or fanciful notion, though it certainly can be that! Close your eyes and squeeze out another blessing! Nah, I think the power is in addressing the issues from within. Not like some benevolent being handing out blessings to the wretches of this world. Haha! But to identify the hurt, the anger, the fear… or whatever it is, and apply all the techniques we know, to calm and comfort that issue. Breathe deep, relax, encompass the culprit with love. It is the only way. You might perceive an anxiety day, or a sad day or a shoulder day. Believe me, I've seen them all. Recognizing that there is a bigger picture (it's not all about you) immediately reduces the negative impact these conditions can have on us. Then, actually working with them, creatively, reduces them further still. You don't need to be offering energy work at a table. This connectedness is in all of us, to be dealt with anywhere, any time. It just takes practice to recognize the bigger picture.
So, when my second client came in, what do you think she told me? Yup… "my back is really acting up today." I could have told her, but I waited to hear it and just smiled. "let's see if we can't quiet that down for a while."
Enjoy these related articles:
* We value and appreciate your comments. Please note that your comment will not appear immediately as it requires an administrative review (for spam control).