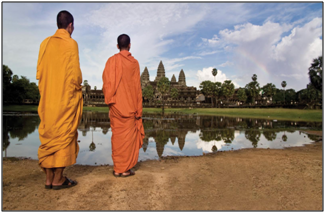 While two monks were walking together, they came upon a rushing river. There, on the river's edge, sat a woman crying.
"Why do you cry?" asked one of the monks.
The damsel replied, "I have to get home and I cannot get across this river."
"Please allow me to help." said the monk, offering his hand.
The woman accepted his help and the monk, after carrying her on his back across the rushing waters, gently set her down on the other side. Then he and his fellow monk continued on with their journey.
After they'd been walking for another half day, the other monk turned to his friend and said, "You shouldn't have done that. It's against our rules to touch a woman. You carried her on your back!"
"Yes", replied the other "but I put her down on the other side, way back there. Seems to me, you are still carrying her!"
Forgiveness.
I think this little story says it all. How do you know if you have truly forgiven somebody? Are you still carrying them? Is the hurt you felt, way back there, still impacting your experience today?
Forgiveness is a tricky one. It's hard to forget what somebody has done. But I think forgiveness is not about forgetting. It's not condoning. It's putting things into perspective. Which might mean, I love you, but I don't like your behaviour. Ergo, I need to move on. Hmmmm, maybe, in a nutshell, forgiveness is absolving another of responsibility for our own experience. And then forgiving ourselves for our own perceived culpability. With this approach, the whole experience of being offended or hurt can flip to one that gave us a chance to learn something about ourselves. That's enlightenment, isn't it?
That strikes a chord with me. I can think of one or two people that have been weighing a bit heavy of late. Perhaps it's time to just leave them gently by the river.
Enjoy these related articles:
* We value and appreciate your comments. Please note that your comment will not appear immediately as it requires an administrative review (for spam control).