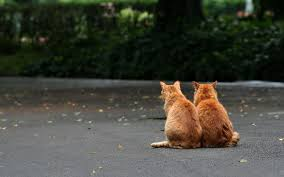 Sometimes you just can't fix it. When someone you love is caught in the depths of despair, grieving, all you can do is be there. There are no words. Of course we'd like nothing more than to make it all go away, make everything better. But grief is one of those things that we all have to go through … all the way through, to the other side. Sometimes we have to go it alone. Sometimes we need a shoulder to lean on.
We went to England, last month, to visit a relative and dear friend who had recently lost her husband of sixty years. She was waiting for us at the platform, in her wee northern village, smiling weakly and putting her best face forward. In that moment, as we trundled our suitcases over the bumpy terrain toward her, this eighty-four year old woman, with whom we have travelled around half the world, climbed mountainsides, swam salty seas and raised more than a pint or two in laughter, looked like a  little girl lost. In years past, she and Don had always been there to greet us, Don taking the lead, hoisting our luggage into the car and speedily driving us home. But not this time. His absence was conspicuous.
We only stayed a few days, catching a laugh when we could and remaining still and calm when a wave of sorrow would wash over her. He wasn't there for our annual evening out for a pub dinner. He wasn't there to pour over maps and routes with us. He wasn't there to tease me into fixing him another glass of whiskey. He wasn't there and he would not be. When this painful reality reared its ugly head, she would crumble into tears. The best I could offer was to open my arms, ooze all the love I could and let her lean into me and sob.
Our life substance, so deeply enmeshed with another needs time and permission to untangle. Sometimes it never does and sometimes we don't want it to. There is no wrong or right. At the core of it all is our soul and the best we can do for each other is to recognize that and be present, while the soul determines what it must do. Will she be okay? Of course she will. It is not up to us to define what "okay" means for her. Only she knows, her soul and, perhaps, her soul mate. What an honour to be allowed into a tiny piece of that process.
Also Check out these Articles:
Once I saw a cat get hit by a car, in the dark. After running over to check , it was obvious the cat was dead. From out of the mist came another cat who sat down beside the other and just stayed, as if holding watch while the other ascended. He just stayed and the image has never left me. When one of us leaves, we can only accompany each other so far. I wonder how far that is?
* We value and appreciate your comments. Please note that your comment will not appear immediately as it requires an administrative review (for spam control).