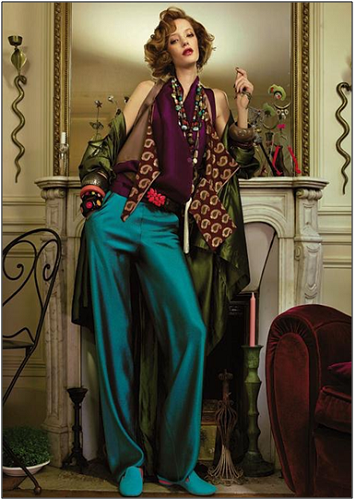 Throughout history, artists, poets, writers, musicians and other creative souls have made mention of their muse. Some will tell you that a certain person is their muse; ie. Loulou de la Falaise (right) for  Yves St. Laurent. Patty Boyd has been regarded as the muse for both George Harrison and Eric Clapton. Stephen King's muse is a cigar-smoking, wise-ass, invisible friend. There are celestial muses and spiritual muses. But, it seems to me, it all comes down to one thing… spirit. More specifically, the creative spirit. This doesn't mean that Patty wasn't an inspiration. You only have to listen to Layla to appreciate that. But, the creativity came through Clapton. He had to tap into his own connection with the creative spirit.
Creative Spirit
Why am I writing about this? Well, the spirit of creativity affects all of us, not just those who let it flow through music and words. It flows through the carpenter and the brick-layer. It flows through the cook and the gardener. It flows and when we are tuned into that flow, we are happy, everything runs smoothly. And while at times it might seem elusive, it is always there. Sometimes it is simply a matter of opening our arms, stepping forward into the void and trusting. Sometimes it is a matter of looking to another.
We are all connected, yes? Opening ourselves to that reality, humbling ourselves in the presence of another will create an alternate avenue for the spirit to appear. Perhaps, then, that other person is our muse. Ah so!, then there must be times when we are the muse! In our acts of generosity and kindness, in our boldness to be ourselves, right out loud, and in our own carefully tended connection with that creative spirit, we provide the channel for somebody else.
Riding in my car yesterday, I was listening to a tres fab song by Mark Bolan and T Rex. I love it… Cosmic Dancer. This is from decades ago! I did a little reading on Mr. Bolan, knowing that he had died young. In my reading, I discovered he'd left behind a small child. Who stepped forward and offered that spirit of generosity and kindness? David Bowie. He privately funded the child's schooling because Mark had been his friend. I love the way it all ties together. Have a listen to the song. I hope you had a chance to read my latest little story, The Voice of the Soul. Bowie just danced his way into the tomb and I imagine he will dance himself right through the womb, again. Or, perhaps, he'll stay and be one with the creative spirit that is a part of us all.
My conclusion?  The creative spirit and the muse are one and the same. We only need look around to see shining examples of that everywhere.
Enjoy these related articles:
* We value and appreciate your comments. Please note that your comment will not appear immediately as it requires an administrative review (for spam control).