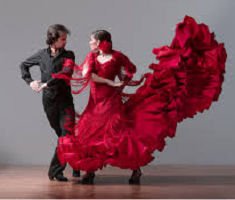 (It's Working Even When We Can't See It)
I went to Spain in October and, upon embarking on this trip, thought there would be plenty of fodder for GoneWooWoo … I mean tapas (Food WooWoo), tours, new culture, flamenco dancers, Picasso, Gaudi, Miro and the one and only, darling Dali…. you would think, right? I was TREATED! Are you kidding me? Plane fare and 5 star hotels, just handed to me. That's like winning an amazing prize on "The Price Is Right" without even having to dress like a refrigerator! Still I gave it careful thought before agreeing to go and all joking aside, it was "my gut" that said GO.
I suppose that in itself is a bit WooWoo. One day you meet a fellow dog-walker in the woods and the next thing you know you're perusing the Museo del Prado in Madrid, outfitted with headsets and looking at yet another ginormous depiction of the crucifixion of Christ, with Mary and Mary grieving in the foreground. It occurred to me then, "oh I get it! they didn't have movies back then, so they had these artists paint the picture for you." It was a very cool trip and we left no stone unturned. We even had a lay-over in Copenhagen that allowed us time to visit my grandfathers sculptures at the Carlsberg Glyptotek.
The Magic of Spirit, Creating our Own Karma
But, "wow-wow-freak-me-out" moments did not present themselves. While indulging in this smorgasbord for the senses, it appeared that my  job was simply to accept this comfortable, yet foreign surface I was skating upon. My only concern, it seemed, was to remain aware, relax and enjoy the show, knowing that all things are for a reason. ALL things! The fact is, we are constantly creating our own karma as we go.
WooWoo, where did you go? Well, we know, the magic of Spirit is always happening, whether we recognize the results or not. In the end, one conversation over dessert in Barcelona led to a door opening for somebody I love. It could well be the very opportunity they have been needing for quite some time. Without hopping on that plane and joining my friend across the Atlantic Ocean, we may have missed this door altogether. That is following your heart. That is listening to Spirit. That's WooWoo, my dears and I love it!
Check Out these Related Articles:
* We value and appreciate your comments. Please note that your comment will not appear immediately as it requires an administrative review (for spam control).