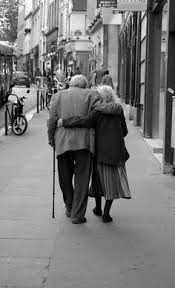 My friend Rick and I used to play this goofy game, which involved picking out a stranger, at random, and launching into a creative, full-blown account of what we imagined their life to be. How bored must we have been? We'd fall into fits of giggles after deciding that the guy with the briefcase still lived with his mother and loved to eat baked beans and weenies. The woman with the little dog loved Lawrence Welk and delighted in knitting fashion-forward sweaters for said dog. Talk about cheap entertainment! We were young and silly, without much life experience upon which to base our fantasies. However, we did have one thing right. Everybody has a story and, I have come to learn, everybody is magnificent.
These bodies we walk around in go through their cycles; young and vibrant, middle aged and complacent, old and breaking down. We all have or will (in most cases) visit these stages. But it is my view that the spirit within these bodies carries the totality of a life lived. Meaning… still present within the old woman , bent and slowly shuffling her way across the street, is the child who laughed and played… still present is the student who skipped classes or won awards … still present is the dancer, the lover, the benefactor and the bitch. All make up the one we see crossing our line of vision and that is a wonder to behold.
The Spirit Within: A Glimpse of a Larger Reality
It's not like we need to imagine what their life is or was. To know that there is a story is enough. To know that they are brave to be here and strong to have endured  is worthy of respect. And once again, we only need hold the message in our hearts; "You are loved, you are needed and you are a vital part of the spiritual body on earth."
My game as a kid made me laugh. But it has developed into a humble acknowledgement of the vastness of spirit in each one. And that brings true joy.
I had a dream, several years after my mother died. I found a secret door that nobody else could see and climbed through. I arrived on "the other side", you know THE other side, where I was met by a spirit who guided me to a huge hall of souls. I thought I saw my Grandpa there. My guide directed me toward one spirit in particular, magnificent in its radiance and beauty. What powerful, all-encompassing, undiluted love, it emanated. Suddenly I realized who this spirit was and gasped, "Mom… oh my god… you are my mother!" and in gentle kindness, the spirit before me confirmed my realization.
In that moment, I realized that my mother, Viola, was but one small aspect of this magnificent spirit. I was meeting my mother in her fullness, not as Vi as I had once known her, but as Love. I choose to believe that this was not merely a dream, but a glimpse of a larger reality… a glimpse of the truth.