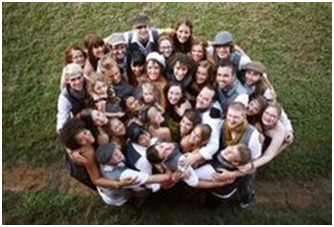 Thrust into this life (or so it would seem), we do the best we can to get by. We survive, we count our successes, we muddle our way through and, if we are very lucky, we find true happiness. In this life, rife with complicated human dynamics and mine fields loaded with personal challenges, there is an art to being a truly happy person. WooWoo is all about the Art of Living and one exciting page from the Art of Living is about connections… all those people who enhance, complicate and confuse our landscape. They will always be there, so why not make their presence in consciousness a plus? No matter what!
In sharing energy, there are many techniques available. Most practitioners I know learn all sorts from all sorts. Then they use their own perception and experience to incorporate some of those techniques into their own unique approach.
So, when I employ a specific technique, created to soothe the nervous system, I pretty much always think of Lawrence, because it was Lawrence who introduced me to that specific technique. In fact I think he created it. Every time I use it, he pops up in consciousness. When I work with the chakras, Jeff is there. When I work with music, Tony is there. And when I work with the long bones of the skeletal system, Paul is there. That's just to name a few. The thing is, if all the people that join me in an attunement were to be seen with the naked eye, there would be one heck of a crowd gathered around that little table! In truth, there is.
The Art of Living, Connections
Of course it doesn't stop there. When I eat a banana, Dana is there, erroneously accusing me of stealing a banana. Climbing a steep hill, my mother sings "The Grand Old Duke of York". Old boyfriends, teachers, connections from over the years… EVERYBODY I've ever interacted with appears as part of the fabric of who I am and what I do today. This amazes me.
So what about those who let you down? In any one lifetime, there are bound to be those who disappointed, betrayed, hurt and yadda, yadda. Well, I think their presence in consciousness is an unavoidable fact of living. But, how we allow them to be present is the Art of Living. The older I get, the quicker I am to give thanks and appreciate the gold. And the easier it is to see that every relationship is what I make it, even if I'm not thrilled about certain outcomes. The ultimate outcome, the one I carry in my heart, is up to me. That is basic Art of Living 101.
This crowd around my attunement table isn't getting any smaller. In fact, it is constantly expanding, as is the merry band of connections that share this life journey with me. I am so very thankful for ALL the connections. I am thankful for you. And I am so thankful to have been introduced to The Art of Living, all those years ago. It is an approach that never gets old, continually revealing new insights and perspectives… one little peace at a time. As my tee-shirt says "LOVE WHAT YOU GOT". That's the Art of Living!
You'll Also Enjoy These Articles:
* We value and appreciate your comments. Please note that your comment will not appear immediately as it requires an administrative review (for spam control).